The following is a continuation of Mera Peak Expedition — Hinku Valley to Lukla.
Thursday, October 27
Saying goodbye was tough after so much time with such great people. The porters, guides and kitchen staff had performed fantastically and though they were paid well by Nepal standards, we felt indebted to them.
Flying to Kathmandu
Our morning flight from Lukla to Kathmandu was without incident and we were at the Kathmandu Guesty House by the early afternoon. Having a mostly-modern hotel room felt luxurious after 'rustic' Lukla and camping in the Himalayan outback before that. Adventure Geo Treks has a tradition of a hosted dinner at the home of owner Niru Rai.
Zarela Zamorra
Before our 6:30pm pickup, though, we made our way just up the street to the New Orleans Cafe to meet with Zarela Zamora, owner of the La Casa de Zarela, a hotel in the Cordillera Blanca of Peru. The meeting had been facilitated by our friend, Tony Yeary, "a life-long adventurer and arrogant punk" that has been to Zarela's establishment many times when climbing local peaks like the famous and highly photogenic Alpamayo at 5947 m (19,511 ft). Not only does Zarela provide lodging, but is also able to fully support treks and expeditions from her business in Huaraz, Peru. It was a tremendous coincidence that Zarela was in Kathmandu at the same time, having just returned from a trek to Amadablam. She was as pleasant as expected and we look forward to making a trip to Peru next year.
Dinner with Niru
Our trip to Niru's house was made longer by the combination of Diwali and Newari New Year celebrations that created traffic jams all along the route. There were large street murals decorated meticulously with flower seeds and colored powders, groups of people dancing to music, children extorting money from merchants with the threat of a repetitive and annoying song, and simply many more people out and about on a Thursday night than normal.
Once at his home, we were ushered to a patio room with an excellent view of Kathmandu Valley and subsequently served plate after plate of delicious Nepali specialities, including potatoes, fried fish, roasted chicken, mutton curry over rice and a dessert of yoghurt and fruit. Along the way, beer glasses were constantly refreshed as the conversation covered the complexity of helping Basa Village through changing times and population challenges. By 10pm, we were well past our bedtime of recent weeks of trekking and we made our way back to he hotel exhausted and full.
Friday, October 28

Our day to leave Nepal, which is always a mixed-emotion thing for us. We love the country and its people and after three weeks, are ready for the conveniences of our modern lives that we miss. It may seem terribly Western to say so, but there's a comfort to consistent electricity, clean water and a wide variety of food. Perhaps the best life is one that appreciates everything we have in our own culture and also allows for 'stepping out' into other cultures and patterns for living. There's no need to spend too much time on our own culture's virtues, but it would be worthwhile to go into Nepal's. There is a beautiful simplicity to Nepal that takes shape in many ways, including:
Happiness: In all of our time in Nepal, we've never heard a complaint about their life
Gratitude: The gift of a headlamp earns kisses on the neck. A gifted fleece vest that has seen plenty of use is treated like a prized possession
Driving: Nepalis use all of the road, including either side, as necessary, but never seem to get into arguments or even show anger on the streets
Smiles: A Nepali engaged in the most difficult task can break into a big smile simply with a "Namaste" or when smiled at
Helpfulness: We have yet to find a Nepali that would pass on an opportunity to give directions or assist in any way
It is a wonderful country that feels unique. While we haven't been everywhere, the combination of the highest mountains on Earth and the most gentle people we've met creates an irresistible combination. This is undoubtedly the reason we've been there three times in the past eighteen months and plan another trip in the Spring.
Thank you for reading our Mera Peak Expedition blog. If you missed any of the posts, you can see all of them at this link.
Credits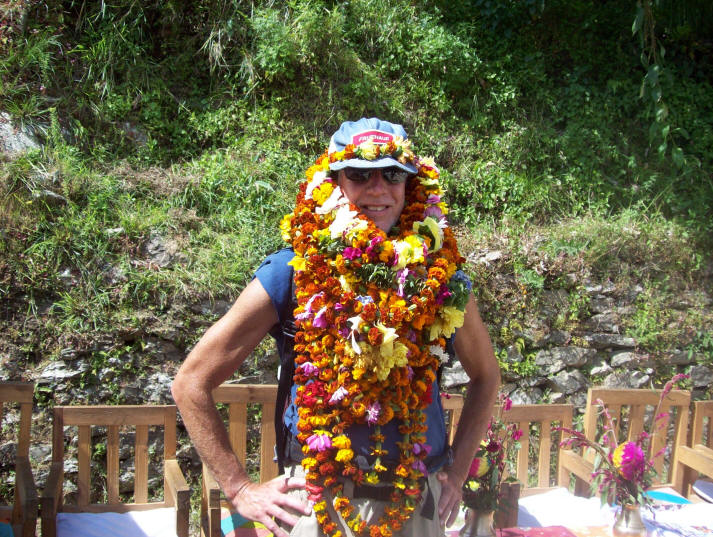 Jeff Rasley's blog. Jeff provided many of the photos used in this series and we thank him for this and for organizing the trek. Jeff's work with the Basa Village Project has been life-changing for many, and you can find his inspirational books at Amazon.
Thank you to Joel Meyers of FuseIQ in Seattle, WA. Several of his videos were used in these posts.
We'd also like to thank Dennis Mathews for brining the satellite telephone that helped keep us safe throughout this adventure. Dennis also contributed pictures.
Mike Miller was a great companion throughout the trip and had many great tales from "Las Cruces"
Karlin and Ursi were a powerhouse climbing couple with more caving experience under their belt than anyone we've ever met.
David Hudson was there in spirit even though he was waylaid by the Kathmandu Krud.
Lastly, but not least, we'd like to thank our phenomenal staff from Adventure Geo Treks. Without their hard word, this trek would not have been safe and so enjoyable.