The following is a guest blog by Jeff Rasley
From the Prologue to my book, Bringing Progress to Paradise:
"The avalanche struck when our team was hiking out from base camp after a failed attempt to climb 21,224-foot Mera Peak in the fall of 1999 in the Solu-Khumbu region of Nepal. Fifteen climbing teams spent most of the first week of October stuck in base camp or high camp. With unrelenting snow and terrible visibility, conditions were too tough to make a summit attempt. During my team's eleven-day trek to the Mera base camp at 16,000 feet, we were rained on every day until we got above 14,000 feet. From then on, it snowed every day."
Approaching Mera
The trek was surrealistic, covering the most diverse terrain I had hiked in the Nepal Himalayas.  We crossed 15,000 foot high mountain passes, waded rushing glacier-fed streams, slipped and slid through a muddy bamboo forest and past the remains of a village destroyed the year before by an avalanche. We hiked across the largest moraine I had ever seen, walking for hours on a desert of rocks which went on in the distance as far as the eye could see.
After leaving Lukla there were no villages to provide a respite from wilderness camping.  One night we huddled around the fire pit in a Sherpa yak herder's home passing around a Fanta bottle filled with rakshi (a Nepalese liquor). Molly, one of the expedition team members, decided to sleep out of her tent that night under the stars and was rewarded by a small herd of yaks snuffling and pushing her and her sleeping bag around their pasture.
The fantastic trek was marred and left a scar in my memory because three Nepalese porters died in the avalanche. Still, Mera Peak has been calling me back. In October a group of ten friends, including Chris and Jeanne, will trek to Basa Village and then on to attempt the climb of Mera Peak.
Basa Village Project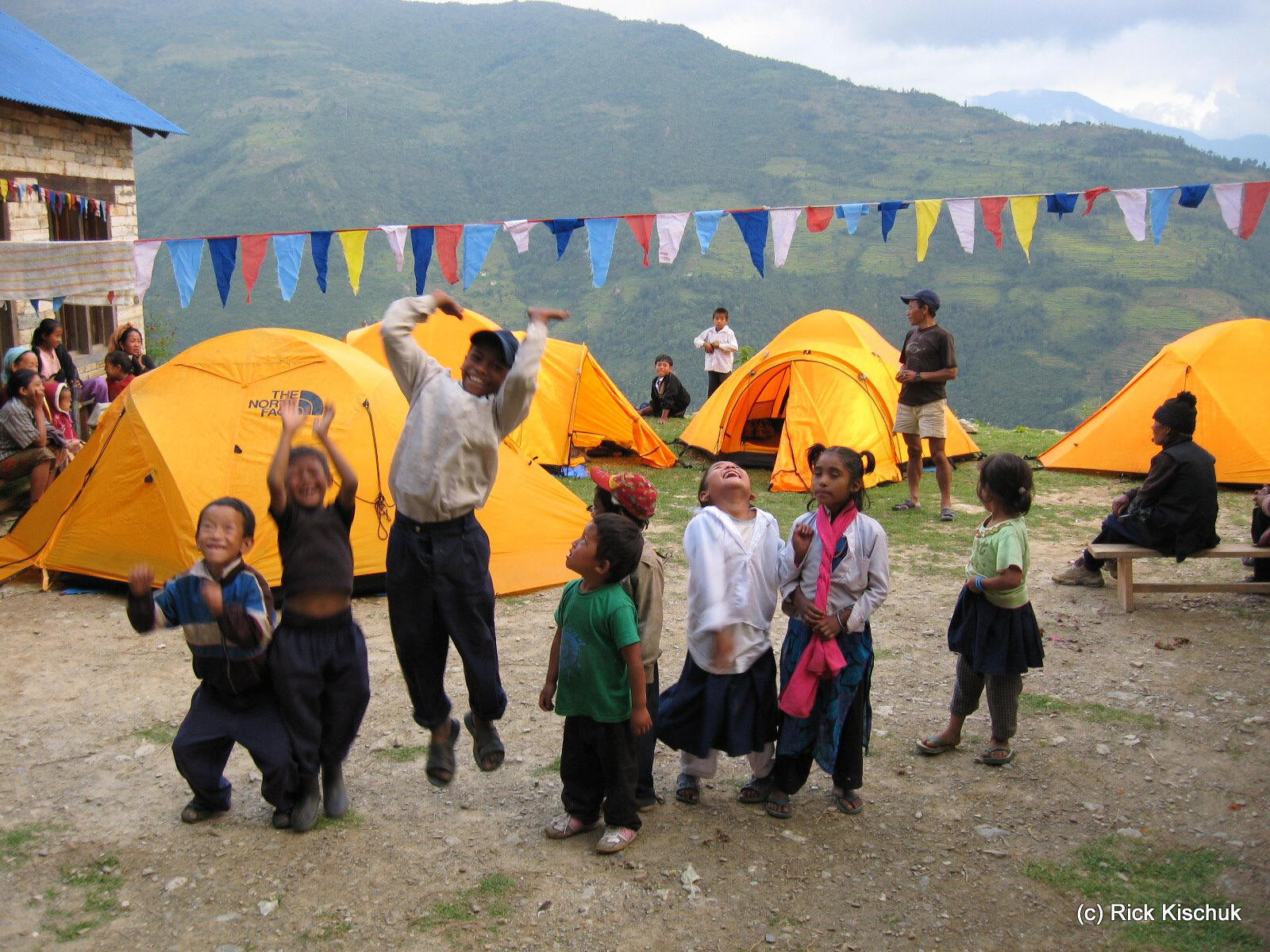 Our group is made up of supporters of the First Friends Basa Village Project.  This year, in conjunction with the Nepal-based Basa Village Foundation, we have successfully completed a hydroelectric and smokeless stove project. Our group will deliver ten laptop computers to the village school. After spending two days with our friends in Basa we will trek up to Mera Peak for another encounter with the mountain which has brought me grief and inspiration.
Mera Peak in October 2011
The outfitter company which will support our group is Adventure GeoTreks, whose CEO is my friend Niru Rai. Niru is also the Chairman of the Basa Village Foundation. He and I have partnered in organizing treks and philanthropy projects since meeting on-line in 2005.
Chris and Jeanne have become friends with Niru and me through their love of Nepal and the mountain people. I am very much looking forward to trekking and climbing with them on the Basa – Mera Peak Expedition October 2011. Let us hope we will just experience the best of expeditions.
More info about the Basa Village Project may be found on Jeff Rasley's website:  http://www.jeffreyrasley.com
For more detail on Jeff's first time on Mera Peak, see Heroes of the Himalayas – The Strongest Men I Know.
About Jeff
Jeff Rasley is the author of "Bringing Progress to Paradise," a book about combining adventure travel with service work in Himalayan villages. He is also author of "False Prophet?", a legal-thriller murder-mystery novel inspired by a case Rasley handled in his legal practice.